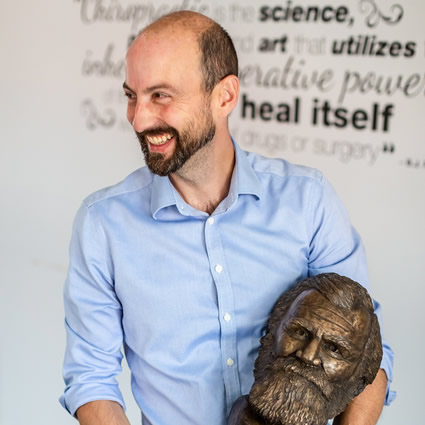 Cobham Chiropractic Reviews
What Our Cobham Patients Say
At Cobham Chiropractic we love when patients share with us their feedback and comments after chiropractic care. Please read our patient testimonials below to see what other people have achieved through their tailored treatment plans with us.
Share your stories too! Click here to send us your feedback so that we can help to spread the word about the benefits of natural Cobham Chiropractic care.
For more information, or to schedule an appointment contact us today.

---
Can't Thank You Enough
I have been enduring excruciating pain in my hip which gradually moved to my thigh and eventually my calf for 3-4 months. At 72 I thought that perhaps this was a prelude to the need for a hip replacement. Having been a regular gym member for 23 years this was difficult to accept.
After my second adjustment with Toby I was astonished to feel free of pain and able to sleep through the night which I haven't been able to do for months. My understanding of chiropractic adjustment is that it is not a quick fix but a treatment to enable my body to do what it was made to do and that this would take time. To have such a positive, life changing result is testimony to Toby's skill in triggering that response.
The day after my adjustment I walked for 40 minutes to the park with my grandson without pain and was able to play football with him before walking home again. I can't thank Toby enough and I will continue with regular appointments to maintain this life enhancing connection with my spine.
Sue B.
Back to Our Triathlon Training Soon
My husband and I went to see Toby hoping he could help us with our hip and back problems. My husband and I are extremely active people I am a personal trainer and a Pilates Instructor and my Husband has a very active role within a specialist job. Historically my husband has suffered with a painful bad back for years and we feel we have done the best we can with it, however on our first visit to see Toby my husband noticed a remarkable difference with his back and it carried on till our second visit where my husband is still pain free. He is delighted!!!!!! My story is a little different as I was out running and mis judged the depth of the pavement and jarred my hip which gave me an ache in my back which I couldn't get rid of. so I went to see an osteopaths which didn't really help I did my own therapy which over time made some difference. The biggest difference that I have had was one appointment with Toby where my back ache disappeared. We are one week into therapy with Toby and we have a few more treatments to have and we are looking forward to ongoing improvement and getting back to our Triathlon training
Carron W.
Short Notice
Really appreciative that you were able to see me at such short notice! I also found the introductory videos enlightening and really helpful, especially to learn how important it is to have regular 'maintenance' checks.
Suzanne S.
No Mumbo-Jumbo
Toby was friendly, helpful, listened well, explained everything very clearly, gave hope without promising miracles, suggested ways in which I could help my situation as well as what Chiropractic could do. It all made very good sense. No mumbo-jumbo. Wonderful. I have signed up for a course of treatment as the initial one made such a difference.
Elizabeth G.
Complements my training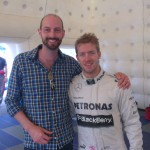 'I want to be sure I am doing everything I can to give me the best chance of winning. Maintaining my body in optimal condition is just as important as getting the set-up right on the car. I need everything to be working perfectly so I can respond to what the car is doing – pretty important at over 200mph and forces up to 5G! Toby's adjustments to my spine and nervous system do exactly that. It complements my training, helps me feel more comfortable in the car during races, and gives me confidence, knowing I am performing at 100%.'
Sam Bird, Formula One Test and Development Driver (Mercedes F1 Team), GP2 Race Driver for Russian Time
Definitely seeing the benefits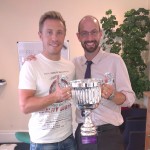 'I first came to Toby on recommendation from fellow racing drivers. They were reporting great improvements in performance as their spines were stronger and healthier. I wanted some of that! I have always been mindful of looking after my back, so it made sense that chiropractic should play an important role and I'm definitely seeing the benefits. Thank you!'
Duncan Tappy, British GT (McLaren), Blancpain Endurance Series (Mercedes), British Formula Renault Champion 2007
Signs of Improvement After First Session
A clear explanation of what the problem was and a realistic assessment of what could be done to help. Immediate signs of improvement after just one session, first good nights sleep for months!
David
Corporate Health and Wellbeing
'Toby recently attended a Wellbeing day held at AXA, in which he spent the day giving spine checks to our employees and giving them advice. Toby was a great asset for us at the event and we had really positive feedback from staff who saw Toby on the day, and those that have since visited Cobham Chiropractic for a full consultation. We really saw a benefit amongst staff who spend most of the day sitting at their desks consider the impact this has on their health and posture, I would definitely recommend Cobham Chiropractic to other companies who are holding similar events! Many thanks!'
Gemma Easthope, HR Advisor, AXA Insurance
Neck Problems
'I have been suffering from neck problems for nearly 14 years through an accident at work and, by having treatment with Toby Colliver at Cobham Chiropractic, my neck has been noticeably better even after my first treatment. I also twisted my back about 3 years ago in an incident at work and now feel stronger than ever before by having regular treatments. I feel so much stronger! I also run as a hobby and have noticed that my breathing ability has improved and overall balance and posture are so much better than before. More energy is always a bonus too! Thank you!!'
Fiona, age 48.
Back Ache for as Long as I can Remember
'I have suffered from back ache for as long as I can remember, in various degrees. As it had become very much worse, and I also had sciatica, I went to see the doctor. He sent me to have an x-ray; he said the results were the same as six years ago, and that there wasn't anything that could be done to correct the problem. I was walking past Cobham Chiropractic with my wife and a friend, WHINGEING as usual. They said, why don't you go in there, so I did. I had a course of treatments with Toby Colliver and I am very glad I did as the pain has gone from my back, so has the sciatica. I'm sure my friends would like to thank you also.'
Lionel, age 73
Back
'I have been water-skiing for over 20 years and last weekend I had the best ski ever. It is definitely because my back feels looser and stronger.'
David, age 47.
Back & Neck
'I have been suffering with my back on and off for over 30 years and didn't think anyone could do anything about it. Eventually my husband persuaded me to see Dr Colliver. Now I can actually join in with the dancing at parties without worrying about my back! Also, I always thought that the lumps and stiffness in my neck were normal but now it feels smooth and curved like it should.'
Jill, age 48
100% Better
'I feel 100% better already',
Isabelle, age 30
Lower Back & Nerve Pain
'I had suffered for some months with intermittent lower back and nerve pain. After an initial consultation Toby Colliver quickly diagnosed where the pain was originating from and arranged a course of treatments. The initial treatments proved quite effective, within the first ten my hips were now level and I was in no pain',
Julia, age 45
No Pain
'Not only do I now have no pain, but I am also now not aggressive any more which I am sure was down to my bad back',
Ronald, age 57
Pain on Left Side
'I had pain in most of the left side of my body for almost three years. Toby Colliver found that my problem was at the top of my neck as I grind my teeth at night. After one particular adjustment I felt better than I had done for a long time',
E.L., age 20
Sciatica
'As well as helping with my sciatica, I feel my morale is much better too'
Michael, age 71
No Stick
'I don't have to use my stick to walk anymore!'
Iris, age 81
Better Posture
'People I had never even spoken to at work have been noticing me and coming to tell me how much better my posture is!'
Helen, age 29
Important to the Practitioner
The Centre has a very welcoming environment. It is very efficiently run and you are made to feel that your problems are important to the practitioner. The explanations given of what is going on inside your body are easy to understand and the manipulation given is gentle and pain free.
Jan D.
Wider Understanding of Treatments
A very positive experience, not just analysing the immediate problem but providing a wider understanding of the issues, the treatment for conditions that can be fixed and what the patient can do to stay fit and healthy with an ongoing condition.
Lindsay M.
Full of Knowledge
I had an extremely professional and friendly experience at Cobham Chiropractic. I left my first appointment full of knowledge and understanding about the issues I had and the treatment procedures. I am confident of a great outcome. Thank you so much.
Natalia P.
Ready to get started?
Please contact us to arrange a time so that we may meet you and discuss your particular health issue.
CONTACT US »
---
Cobham Chiropractic Reviews | 01932 988580